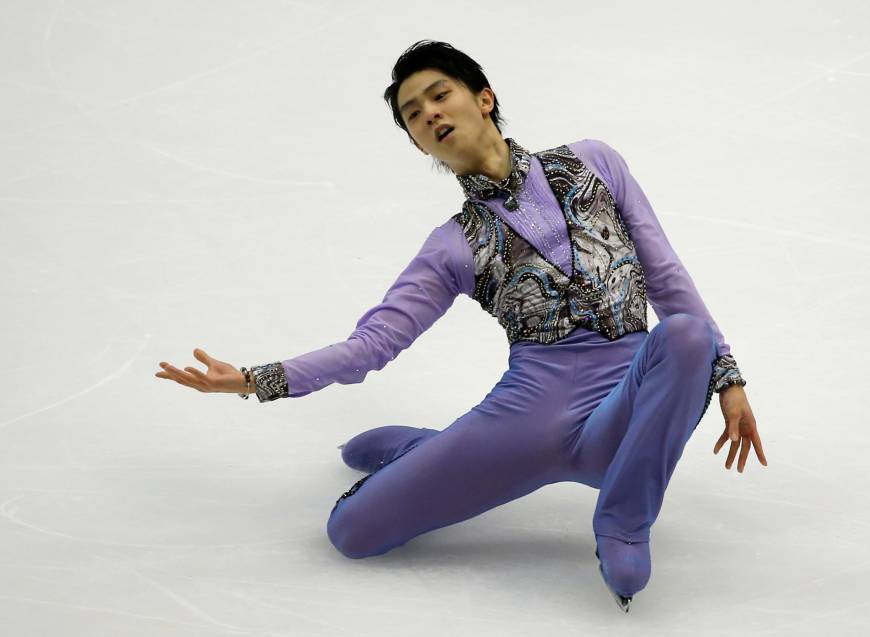 Hanyu's strength, style a sight to behold
BY JACK GALLAGHER
SAPPORO – Yuzuru Hanyu will head to the Grand Prix Final next week in Marseille, France, at the top of his game. His performance at the NHK Trophy here over the weekend reaffirmed his place at the pinnacle of his sport.
Hanyu's training partner Javier Fernandez has won the world title the past two seasons and is certainly deserving of the crown he holds based on the hard work and progress he has made in the past three years.
But after witnessing Hanyu's greatness firsthand once again, Ice Time feels that Fernandez is just keeping the seat warm as world champion until Hanyu takes it back.
Not only did the Olympic champion display his full arsenal of athleticism and presentation skills at Makomanai Arena, he also made it clear that he wants the audience to enjoy his performances.
"I want it to be like a rock concert. Like a show for everybody to watch," Hanyu stated in reference to his short program to Prince's "Let's Go Crazy." "I want people to enjoy it. That is the goal."
Hanyu's score of 103.89 in the short program was the highest on the Grand Prix circuit this season, as was his total tally of 301.47. The latter score was just the fourth ever to surpass the 300-point mark and Hanyu owns three of those (Fernandez has the other).
The Sendai native holds the world standards for short program (110.95), free skate (219.48) and total score (330.43). The numbers are no doubt impressive, but Hanyu is an artist on the ice. He understands that skating is both competition and show business.
Hanyu will be seeking his fourth straight title at the GP Final. In the 21-year history of the event only Russia's Evgeni Plushenko (a four-time champion) has won more times at the prestigious competition.
Once again Hanyu's show in Sapporo blew away veteran skating analysts.
"What a performer!" said Eurosport's Simon Reed after Hanyu's short program. "He's not just won the short with this, he's won the free as well, and he's got his place in Marseille. Just fantastic."
NBC Universal analyst John Coughlin was impressed by Hanyu's athletic ability and how he gets the most value out of his programs.
"He is such a great athlete … He is so great at maximizing his point total," commented Coughlin after the short program. "No one else in the world hits these difficult elements with this kind of ease. He creates this illusion that the sport is much easier than it really is."
Four-time world champion Kurt Browning, who commentates for CBC, called Hanyu "a wizard" and noted his tranquility on the ice during his free skate to "Hope and Legacy."
"How could anybody with four planned quads in their program look so relaxed in their face and upper body?"
Browning then succinctly summarized what many at the highest level of the sport feel.
"He is so far ahead of the skating world in so many areas," Browning said. "Everyone else is chasing him."
Browning then broke down his analysis of Hanyu into specifics.
"Upper back, beautiful run of the edge, creating speed out of nowhere, musicality, awareness of the audience," Browning stated. "But still I love how content and calm his face is."
What must be pointed out is that generally when a skater elevates too high on a given jump, the landing can send them too deep into the ice, thereby complicating the next element. But Hanyu has always had such a feathery touch that even when he soars high into the air he is usually able to carry on without incident.
"He is so strong … it's just such a winning combination, to have the subtlety, and the grace and elegance through the choreography, but the strength — the core strength — is very difficult," Reed's fellow Eurosport announcer pointed out.
NBC analyst Johnny Weir paid Hanyu one of the highest compliments, saying his fortitude in challenging new boundaries is what sets him apart.
"Yuzuru Hanyu has never been afraid of the bright lights or to make mistakes and that's what has made him so great," Weir commented. "He just goes on like a warrior every competition."
Source:
Japan Times
This and other translations are work by
yuzusorbet.tumblr.